If you're into crypto microearning with bitcoin faucets, you should know that microwallet FaucetHub is rebranding and shutting down services as we knew it. For many years it was number one in the niche, but due to legal requirements it's the end of this chapter.
There will be potential successors and FaucetPay is one of them. Let's look at its features and which faucets do support it. This article is also great for those looking for new crypto faucets as you always want to find the highest value to build your bankroll as quick as possible.
FaucetPay
If you would like to be earning bitcoin with new faucets supporting FaucetPay, head to the sign up page and create your FaucetPay account first.
After registration is done, go to the Linked addresses in dashboard menu. There you will have to link your preferred addresses to the microwallet. Then you can start off earning with faucets, just be sure you enter the same bitcoin address that is linked to FaucetPay.
In User dashboard you will be able to track your profits, overall cryptocurrencies balances and how active you've been today.

BitEarn.io
One of the newest faucets out there is BitEarn, this one is very simple and you won't get any trouble navigating yourself on the website.
For solving reCaptcha you can claim 15 satoshi every 30 minutes.
UPDATE: They've lowered reward from 30 to 15 satoshi lately.
During registration enter your FaucetPay bitcoin address and you will be getting paid there instantly after each claim.
Sign-up at BitEarn.io.
Fautsy.com
The Fautsy faucet is not new on the market, but their payments migrated to FaucetPay system recently, too.
Every 5 minutes you can claim free bitcoins worth of 10-20 satoshi.
Their page may be bit confusing at the beginning, the main thing you have to make correct is again enter your bitcoin address that is linked to your FaucetPay account.
Sign-up at Fautsy.com.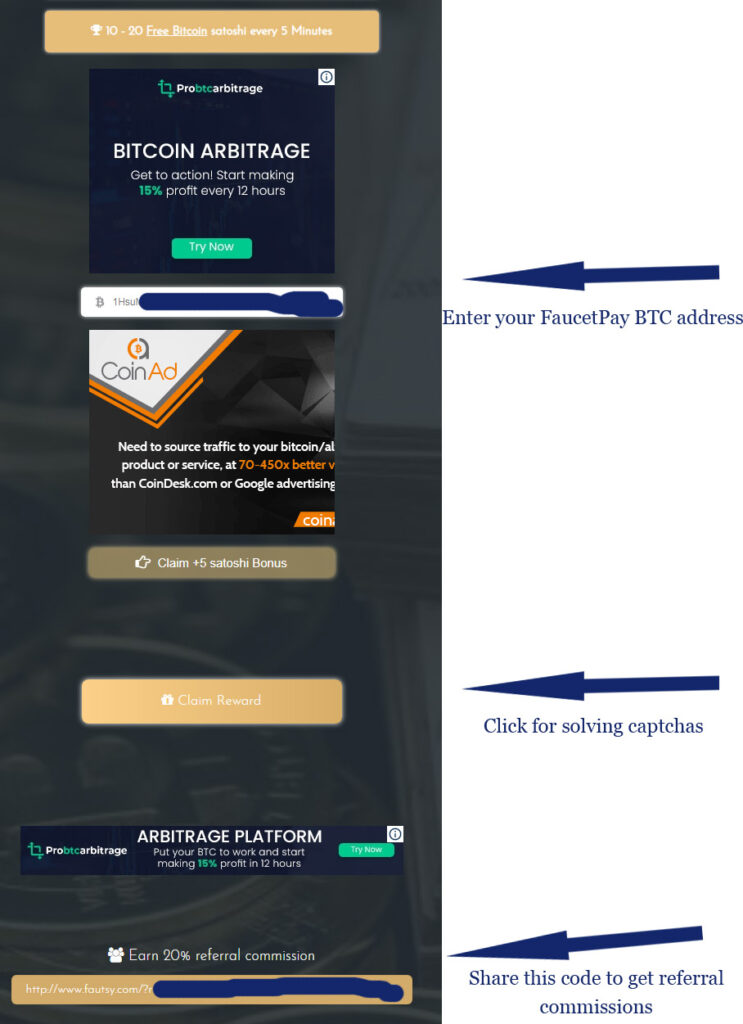 As you can see in the screenshot down below, payouts are instant to your FaucetPay account. We will hope this new microwallet will last long and more faucets migrate to their system.