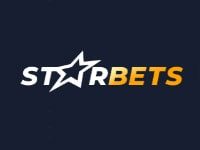 Starbets is a fresh crypto casino with innovative profit sharing. Just play games you want and expect to receive a payout at the end of every day. Have you lost? Claim the cashback.
License
Yes (Curacao)
KYC
Unlikely requested
Restricted Countries
T&C:
You must not use the Site if: 5.3 You reside in a country in which access to online gambling to its residents or to any person within such country is prohibited.
The deposit process is simple – just send the preferred crypto amount to the generated deposit address. To smoothen the process, you can use the QR code provided by the Starbets wallet.
Once you want to cash out your cryptocurrencies from the platform, head to the menu and make a withdrawal request.
You can make a profit by playing or by getting paid casino profits. If you're going to be active in the Starbets casino, you'll receive daily dividends. 
The withdrawals should be approved within several hours.
It took 5 minutes to credit my $100 USDT (BEP20) deposit to be credited to my Starbets account.
At the moment, Starbets offers only Dice and Mines. The Limbo game is in the pipeline and will be released soon. Players can expect even more original games to be introduced in the future.
These in-house simple games are great for STAR token mining. Games operate on a low house edge and offer the ability to put in a large number of bets during a short period. Dice operates on a low edge of 2%, meaning you will get a 98% return in the long run.
For more sophisticated fun, visit the Slots section. You'll find third-party games by popular providers.
Although other crypto casinos may offer a wider selection of slot machines, Starbets' collection is sufficient, too.
Load the game you want and hunt those monstrous 100x multipliers with your favorite cryptocurrency.
Starbets.io offer 100s slots by the following popular game providers:
Then there's another category, Table Games. Browse the selection and enter your favorite card game.
No matter if you play with Bitcoin, Ethereum or other crypto, you can join the followin Starbets' Table Games:
You can choose from multiple versions of every game. Play European or American Roulette. Baccarat Pro? Sic Bo? Everything is available for players.
In the Live Casino, you can play real-time Table Games variations. Choose the table you want to join and play with other players and dealers.
It's not about the card games only, hop into any exciting Live show and try to increase your crypto balance.
In the Live Casino, you can play real-time Table Games variations. Choose the table you want to join and play with other players and dealers.
It's not about the card games only, hop into any exciting Live show and try to increase your crypto balance.
Starbets' leading feature is Wager Mining. What does it mean? Play any game to earn native STAR tokens. And by owning STARs, you're automatically eligible for daily dividend payouts (a fair share of casino profits). That means that every active player will get paid for having fun on the platform.
Deposit Crypto on Starbets.io
Play any game and earn STAR tokens
Receive daily dividend payouts
To start building your passive income at Starbets, you have to put in some bets.
The more you wager → More STARs mined → the Bigger the payouts
It doesn't matter if you enjoy playing slots, dice, or blackjack. You always going to earn some amount of STAR tokens.
But keep in mind, the wager mining rate is preset (read about it in the Starbets whitepaper). With each next stage, the mining rate decreases. In other words, you'll have to wager more to earn the same STAR amount as in the previous mining stages.
All the casino profits (after the expenses) go into the dividends pool. That's the system securing dividends payouts to the players.
If active users' losses outweigh the wins, the dividends pool grows. Casino games operate with a certain house edge; therefore, the pool increases in the long term.
Dividends Distribution
Every day 2% of the Goes to STAR Holders
The remaining 98% Rolls into the next day's pool
New players have disadvantages at Starbets.io. As a freshly incoming, you won't get many bonuses.
To receive a higher cashback %, you have to put in reasonable wagering first. And that's not beneficial for casual gamblers. 
On the other hand, you'll receive the first dividend payout once got at least 10 STAR tokens (which is a tiny amount, and easy to collect).
Have you had a losing session on Starbets? Don't be sad as you get a part of your losses back. The percentage depends on your VIP rank. If you have managed to level up before, the cashback can go up to 30%.
To claim your cashback rewards, head to the Cashback menu and collect crypto instantly.
The deposits are taken into the cashback rewards calculations. If you've lost your winnings, these might not get counted for the cashback – see the maximum cashback base amount formula.
Maximum Cashback Base Amount = Deposits – Withdrawals – Past Collections
Besides Cashback rewards and the Rank Bonus, Starbets' VIP program doesn't have much to offer. Let's hope they'll add more bonus features in the future.
Starbets' business model seems to be similar to BetFury's one, and BetFury's current VIP program grew into highly rewarding.
Another way how to earn additional cash and prizes is via promotions.
At the moment, Starbets runs only two types of promotions. The first one is daily wager races with $500 prize pools. And the second one, related to the next review section, is the referral monthly competition.
Be active at the Starsbet casino to get additional rewards for your plays. A total of $500 is distributed among players with the highest wagering on a given day.
The winner gets around $125 for topping the daily leaderboard.
Pay attention as each day, the bets are counted only when betting with a particular cryptocurrency. Let's say, on Monday only bets made with BTC count towards the leaderboard. On Tuesday only USDT bets are counted, etc.
As Starbets.io is a new project, the only way to contact the team is via e-mail. We expect they will enable live chat once the platform grows into a bigger crypto-gambling site.
If you own a platform or another way how to promote Starbets casino, you can earn an extra buck.
Refer your friends and audience to the platform and earn crypto every time they place a bet. Not only do you get a part of the wager, but you receive STAR tokens, too.
Do you like the Starbets platform? Don't hesitate and let others know about the games and dividend feature!
Default Referral Commission
0.1 % of Each bet + 5% of mined STAR tokens
Startbets brings fresh air to the gambling sector. It's a clone of BetFury and other crypto casinos sharing their profits with active players (STAR holders in this case). 
Build passive income by betting on Dice, Mines, slots, or other available games you would play anyway. Given the platform is running from early 2022, the mining rate is still beneficial, and you've got a chance to obtain STAR tokens for cheap.
We hope Starbets will introduce more bonus features and available games to compete with other generous Bitcoin casinos. If you read Starbets' whitepaper, you learn that they've got plenty of additions in the roadmap.  Let's see if they fulfill the plans.
Yes.
It is completely legal if you follow T&C and don't play from restricted countries or countries where online gambling is forbidden.
It depends on the chosen cryptocurrency.
See the current cash-out fees (might fluctuate in the future).
Bitcoin – 0.00005 BTC
Ethereum – 0.005 ETH
Binance Coin – 0.001 BNB
USDT – 0.5 (TRC20 and BEP20)
Tron – 1 TRX
It's difficult to examine the exact APY rate.
But let's try it with the current settings.
You wager $5000 on Dice → Paid $100 of house edge (investment) → Get $0.23 daily payout → Need ~434 days to return the investment = 84% APY
The numbers will change as Bitcoin and altcoins' prices fluctuate. Other factors are the increasing number of total staked STAR tokens and the dividend pool value. And these figures are tough to predict.