Crypto Casinos With Faucets
Sometimes you want to try casinos for free and some websites are ready for these situations and will be able to satisfy the players with such needs.
There are several crypto casinos offering faucet feature.
Claim free bitcoins and other cryptocurrencies and hop into casino games or slots to try your luck with these funds.
Look at the list below to find the one that suits you the best.
Build your crypto bank with faucets. You will never become millionaire with this method, but stack satoshi by satoshi, cent by cent and eventually this may be a worth of decent money over time. Couple this with high potential profits of crypto markets and you've got a great formula to be a hero from zero.
List of Crypto Casinos with Faucet
Faucet Funds Withdrawable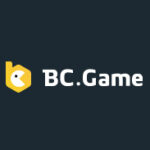 Lucky Spin – Win Up to 1 BTC (rewards in various cryptocurrencies)
BTC, ETH, LTC, XRP, XLM, DOGE, ZEC, TRX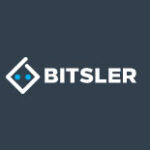 Claim BTSLR every 10 minutes
BTSLR Challenge – convert BTSLR to BTC
($111 leaderboard each 12hrs)
Rank in the BTSLR Challenge to convert into BTC
BTC, ETH, LTC, XRP, USDT and many other cryptocurrencies
CoinBOX feature – Faucet Claim every 6 hours
Level up your account rank to decrease faucet waiting time
(0.000001 BTC )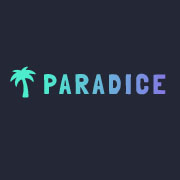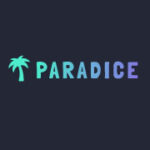 Lucky Spin every 24 hours
BTC, ETH, LTC, DOGE, DASH
FreeBox Feature
Earn BTC Satoshi and BNB every 20 minutes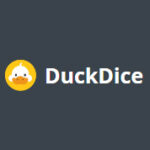 Faucet Mode – Claim available only with zero balance
Reach the transfer limit to main account 
You have to reach the transfer limit to main account to withdraw the funds (low probability)
BTC, BCH, XRP, LTC, DOGE, ETC, XLM, DASH, BTG, ZEC
Create an account on this fresh crypto casino and you will be granted with one lucky spin every day. Reward is up to 1 BTC, but that's very rare. The most often you will receive 10,000 JB, basically these coins are worthless and their purpose is enable players to try the casino out.
There's possibility that JB coins will be listed on some exchange, but don't expect them to be very valueble in that case either.
Crypto casino Bitsler has a unique system when it comes to claiming free crypto. They've got their native token BTSLR and run BTSLR Challenges.
How to claim free bitcoins on Bitsler? – Through BTSLR challenge
Make your BTSLR balance as high as possible each 12 hours to receive prizes in BTC.
Claim BTLSR via faucet – every 10 minutes.
Win more BTSLR in casino to reach the top of the leaderboard
Increase your account level to recieve more BTSLR coins in faucet – up to 20,000 BTSLR per claim (as Diamond Level or higher)
As you can see, Bitsler has decent faucet for players who willing to put in the effort to get free coins. Obviously the easiest it will be if you manage to rank your account to higher levels first.
For people looking for free cryptos on TrustDice there is Coinbox – basically it's a faucet for claiming free coins. For the basic account level you have to wait 6 hours to be able to claim next coins.
The waiting time can be shortened by leveling up your TrustDice account (minimum waiting time 60 minutes for "Satoshi" level).
Meanwhile you can try to multiply for coins in the casino, they offer all kinds of games including Slots, Live casino games or Provably fair games.
Keep in mind that every bet, you collect TXT tokens, these will allow you to be a part of the casino. Lock TXT tokens in the client to receive TrustDice's dividends on regular basis.
Read more about this feature on Casinos paying dividends page.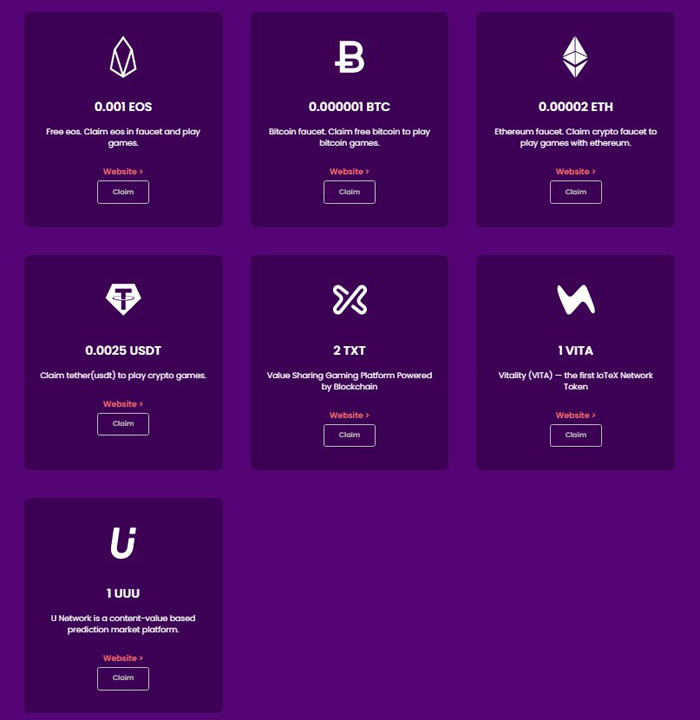 Enjoy your lucky spin every day on Paradice.in – this crypto casino features only a few simple games. All of these are made originally by this site and the simplicity and cleanliness of the design is a benefit.
In the Lucky spin reel you will be rewarded with up to 0.005 ETH.
Also you can claim the daily bonus in the menu. With your visit every consecutive day, the bonus will go up by 100 satoshi.
Reach the minimum withdrawal amount to cash out the winnings or try to multiply your bonuses.
Paradice.in also offers a faucet, but free coins can be claimed only with zero balance – it serves for fun purposes.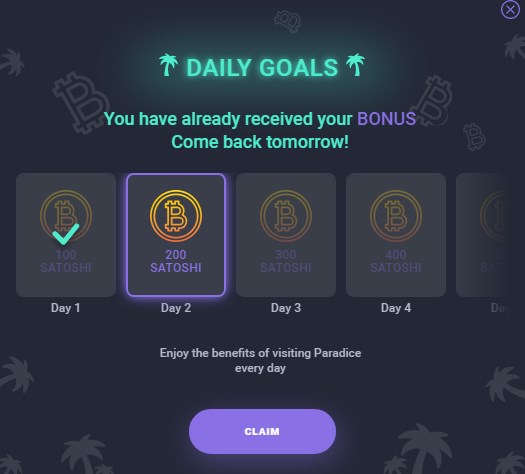 Famous crypto casino BetFury has added FreeBox feature in 2020.
This will give opportunity for every player to claim 10 free satoshi every 20 minutes.
These free crypto can be withdrawn once reached the withdrawal limit or you can try to mine BFG tokens to create passive income.
Read more about this crypto casino and games offered in the review.
Also Duckdice has build-in faucet feature. It enables you to switch to faucet mode (account), than you have to win in the tictactoe game against opponent and free coins are yours.
Although these can be transfered to main account once you reach minimum cashout requirment. And since you cannot claim another free coins with non-zero balance, the only option for you is to gamble your way up to the minimum cashout requirement.
And you're very unlikely to succeed with that.
So if you're looking for acquiring free bitcoin, DuckDice isn't optimal for you.
They offers dice, you can deposit with Bitcoin, Ripple, Ethereum and other cryptocurrencies. Claim many bonuses and participate in races or lottery.