Rollbit tries to bring innovative features onto their gambling platform and they've started with a distribution of own casino token – RLB (Rollbit Coins) to players.
At the moment only the small fraction of all RLB has been spread among Rollbit users, but that will change in December.
Every player can earn RLB tokens by playing at Rollbit. You get these upon claiming rewards and bonuses. For every bet you place on Rollbit, you will eventually receive RLB, too.
But most Rollbit Coins will be release into circulation throughout Christmas giveaway to Rollbot stakers.
How To Earn RLB (Rollbit Coins)
Wagering in the casino – Claim RLB with rewards
• $1 claimed in Rakeback will give you 1 RLB
• $1 claimed in Cashback will give you 2 RLB
• $1 claimed in Rollback will give you 3 RLB
• $1 claimed in Level Up bonuses will give you 5 RLB
Stake any Rollbot – Receive RLB tokens in Christmas Giveaway (amount of rewarded tokens depends on RLB stat at your staked Rollbots)
Deposit NFT to Rollbit marketplace – 100 RLBs per 1 NFT deposited
The presale and public sale of Rollbots NFT collection has been a massive success. The great thing about these NFTs is they carry several utilities – Rollback, NFT Marketshare, Rollboxes and in the month of December Rollbot holders will be rewarded in a massive RLB giveaway.
If you own any Rollbot NFT you will receive a certain amount of RLB tokens (depending on eyes rarity), so make sure to stake your Rollbots during the promotion and claim Rollbit coins.
Allocation varies from 100K to 1M RLB tokens per a Rollbot, if you own multiple Rollbit NFTs you get sum of RLB rewards.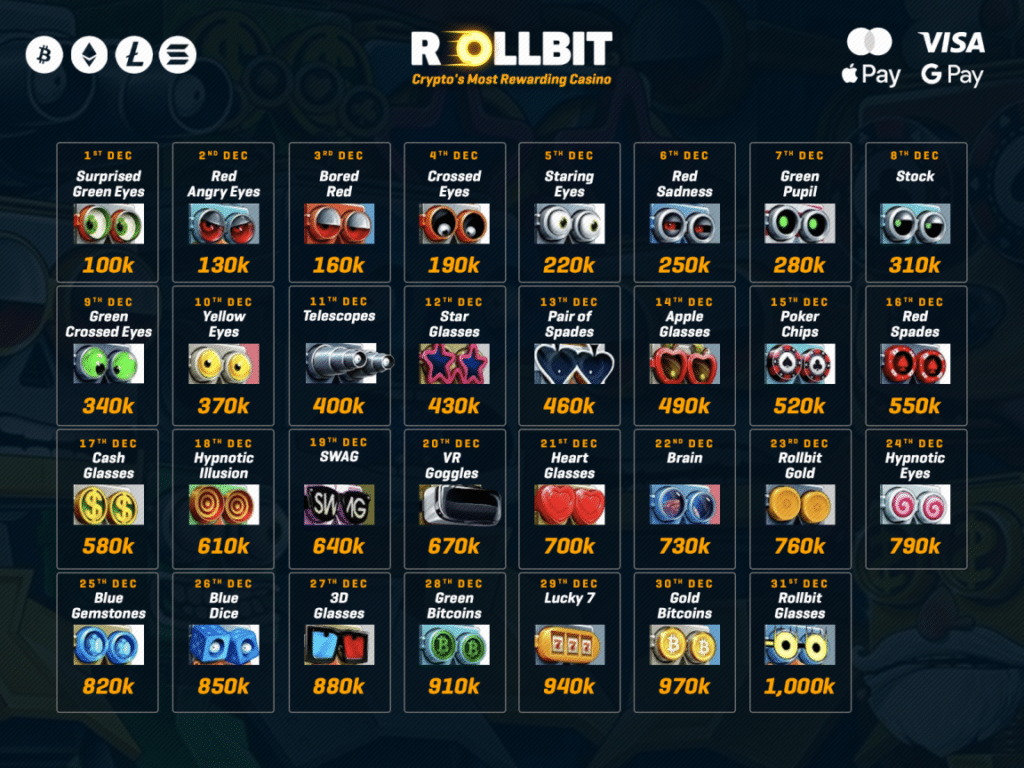 And what's the reason to even own any Rollbit Coins (RLB)? These can be used in the lottery to receive a part of casino profit and more RLBs player have higher his chances are for the reward.
20% of Rollbit casino profits goes to Profit sharing Pool
50% of that to Lottery
50% to the Jackpot
The RLB lottery takes place every 100 Bitcoin blocks (every 16-20 hours), you have to stake RLB to participate each time. At the moment prizes varies from $100 up to $7K for lucky stakers. The jackpot value reached the $500,000 value and eventually it will be won be someone.
To participate in the RLB lottery you have to stake your chosen RLB amount (10 RLB is the minimum required). More you stake, higher your chances for the win.
There's  a lottery fee of 0.2% from total RLB staked – 50% of that will be distributed among Rollbot stakers (from January 2022) and other half will be burned forever. This small fee will ensure deflation of Rollbit Coins.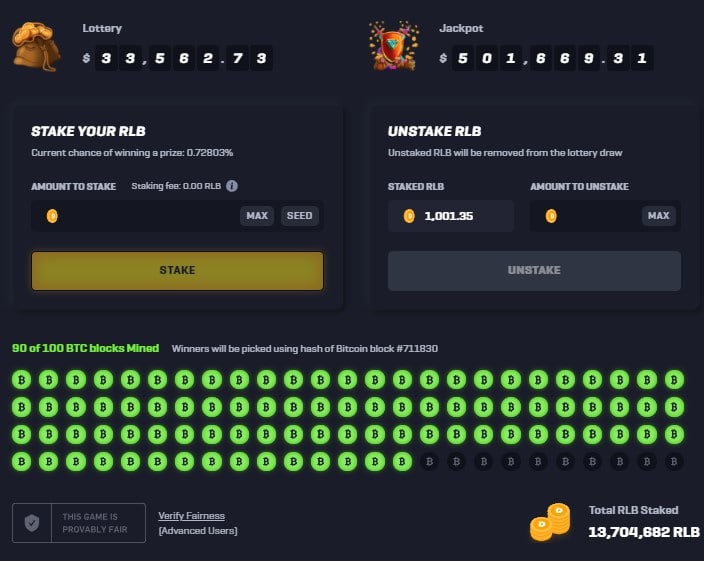 Unlike other crypto casinos paying dividends, where players are rewarded with a fair share of profits on regular basis, at Rollbit the dividend size depends on luck (in the short run only).
Rollbit is a popular crypto casino and trading platform with gaming features. It's mainly focused on slots and own games – X-Crash and X-Roulette.
Players get a hefty rewards through Cashback, Rollback, Rakeback and Rank up bonuses.
Trade NFT at feeless NFT marketplace offering Rollbit's own collection Rollbots.
Earn RLB (Rollbit coins) to have a chance to receive a part of casino profits.
Players are allowed to make Bitcoin, Ethereum, Litecoin and Solana payments.
Learn about features more in detail in the Rollbit review.