Crypto casinos provide unique features for their players and Vault Pro by BC.Game is one of them. Let's take a look at how you can take advantage of it to grow your crypto stack.
Vault Pro - Earn Daily Interest
Enjoy daily interest coming your way on deposited crypto in the Vault Pro. In case you know you won't be playing any casino games or placing sports bets in the upcoming days, there's an option to lock your funds at BC.Game casino and receive small profits.
1 – Sign in to your BC.Game account or create a new one
2 – Deposit funds onto the platform (many cryptos supported)
3 – Move the desired amount of coins into the Vault Pro in case you want to earn passive income
4 – Receive 5% yearly interest on any crypto and 10% on BCD (BC.Game Dollar – native stablecoin)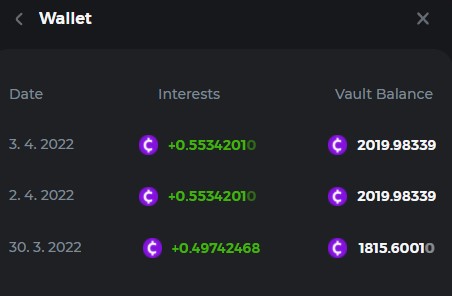 Terms for Vault Pro
-The interest of the day is calculated every day on the amount that is not withdrawn from 00:00 to 23:59 (UTC+0). The interest is calculated at 02:00 (UTC+0); after 24 hours of fund deposit.
-BC.Game ensures that the funds (cryptos) in Vault Pro will not be touched by anyone except for the depositor. Only you can access deposited funds.
-Interest is a part of BC.Game casino profits. It's one of several channels of rewards distributed to players.
As you can see, the biggest interest is paid out on locked BCD. In case you don't own any BC.Game Dollars (non-withdrawable native stablecoin), you can swap other cryptocurrencies for it and stake it afterward.
For this purpose, you can use the BCSwap feature that allows players to trade their cryptos, be aware that there's usually a small fee for every swap.
But there's one way how to avoid it – swap between USDT and BCD with no costs. With this trading pair exception, you can obtain the best asset to get the highest rewards off of Vault Pro costless.
The staking and farming in the crypto world is a popular subject, thousands of users are earning profits on locked cryptocurrencies with interest no bank could offer them. DeFi topic is one of the main sections of the crypto sphere in general as it provides another way to increase your balance.
BC.Game's Vault Pro is not technically DeFi, it's closer to CeFi (centralized finance) as you don't have custody of your crypto coins. So in the case of BC.Game shuts down operations (low chance) you might lose all the funds.
On other hand with DeFi (decentralized finance), you directly own all assets and there are even higher earning potentials on top of that. Be aware, that there are also risks linked with DeFi staking and farming  – you have to believe in smart contracts and that they will work as they are supposed to.
We make the research for you and find the great farming opportunities in the crypto world – check the DeFi section and earn over 20% on your stablecoins.
BC.Game is a licensed crypto casino and sportsbook. They offer a wide variety of in-house games (including Dice, Crash game, Plinko, Wheel, HiLo), slots from various providers, and the live casino.
They accept plenty of cryptocurrencies including popular ones such as Bitcoin, Ethereum, Solana, Dogecoin, Binance coin, Polygon (MATIC) or Fantom (FTM). But you can fund you account with lesser-known cryptos such as SHIB, YGG, or KSM.
Play frequently and bigger amounts to level up your VIP status – earn cashback and receive other bonuses.
Learn about the all features in in-depth BC.Game review.