Rollbit is definitely the most innovative crypto casino you can play on. They've implemented NFT marketplace and several unique features onto their platform recently and these new additions have been positively accepted by most of the active players.
Let's take a look how to take advantage of the generous Rollbit rewards system and what steps to make in order to maximize returns.
Every Rollbit player is eligible for the standard rewards – Rakeback, Cashback and the Rank Up Bonus.
With each casino bet or cryptocurrencies trade you pay house edge or trading fee and portion of that is given back to you. Rakeback is claimable instantly, cashback is available once certain time periods pass. You aren't able to increase these rewards as they're set same for everyone.
See the overview of Rollbit various rewards
Rakeback – The instant reward of 5% of house edge on your bets
Cashback – Another 15% of house edge you paid goes back to your in three installments – Daily (claimable 24 hours after your bet), Weekly (7 days) and Monthly (30 days after the bet)
Rollback – Connect a Rollbot NFT to your profile to get extra rewards – additional 5-20% of the house edge
Rank Up Bonus – Every time you achieve a total wager milestone, the big bonus awaits you in the rewards dashboard. The first one is available after $10,000 wagered (casino, crypto trading, NFT marketplace)
Obtain Rollbot NFT (at Rollbit NFT marketplace, Opensea or win via Rollboxes) and connect it to your Rollbit account and start earning Rollback from each bet.
There is a range of 5-20% of house edge Rollbot can earn you (The Rollbot comes with several properties that determine their utility statistics). So choose you Rollbot wisely, depending if you want to stake it to collect passive income (cash + RLB) or aim for the highest rollback feature possible to maximize your rewards.
There are two types of the leaderboard for high rollers – daily and lifetime.
Rollbot awards the top boss who wagered the most on the platform with $5,000 cash every day! But you would have to place bets worth of over $1 billion to surpass the #1 player. So it's very likely the top position won't change in the near future.
But there's a daily wager leaderboard where even new players have chance to win up to $1000 cash. As the ranking is reset daily, you can join the battle for top 5 positions that are paid.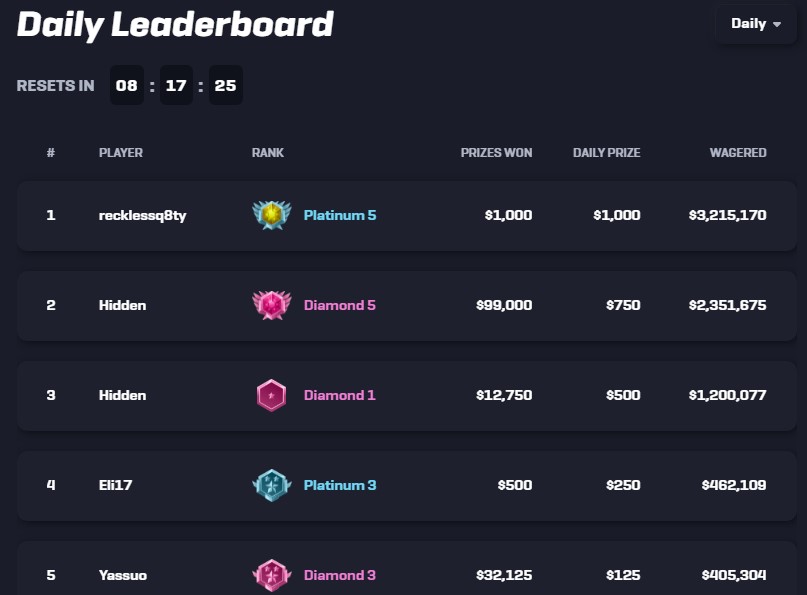 Get More Rewards with Rollbot NFTs
Rollbot NFTs has massive utility and owning one or more opens many option on the Rollbit platform. If you're frequent player, you should have some in the collection to rake more bonuses.
Rollbit is a popular crypto casino and trading platform with gaming features. It's mainly focused on slots and own games – X-Crash and X-Roulette.
Players get a hefty rewards through Cashback, Rollback, Rakeback and Rank up bonuses.
Trade NFT at feeless NFT marketplace offering Rollbit's own collection Rollbots.
Earn RLB (Rollbit coins) to have a chance to receive a part of casino profits.
Players are allowed to make Bitcoin, Ethereum, Litecoin and Solana payments.
Learn about features more in detail in the Rollbit review.