Let's take a look at crypto casinos offering regular wager races with massive prize pools.
If you belong amongst the crypto high rollers you might want to be rewarded for your efforts. And indeed there are several crypto operators that will appreciate your loyalty and pay hundreds or thousands for finishing in the top of the leaderboards.
Find the races that suit you the best – from smaller ones to Stake's huge 100K race. Keep in mind with bigger prize pools there's going to be bigger wager requirements to finish up on the highest positions.
Stake $100,000 Daily Race
The number one wager race is the daily one on Stake casino and sportsbook. Given they've recently boosted the prize pool even more, their regular wager race is the biggest by a large margin.
Compete with the most hardcore high rollers to get the big chunk of the 100k pool. To climb the leaderboard expect the necessity to wager at least $1 million worth of crypto.
Enter code DTB for an instant 10% Rakeback – Only new players!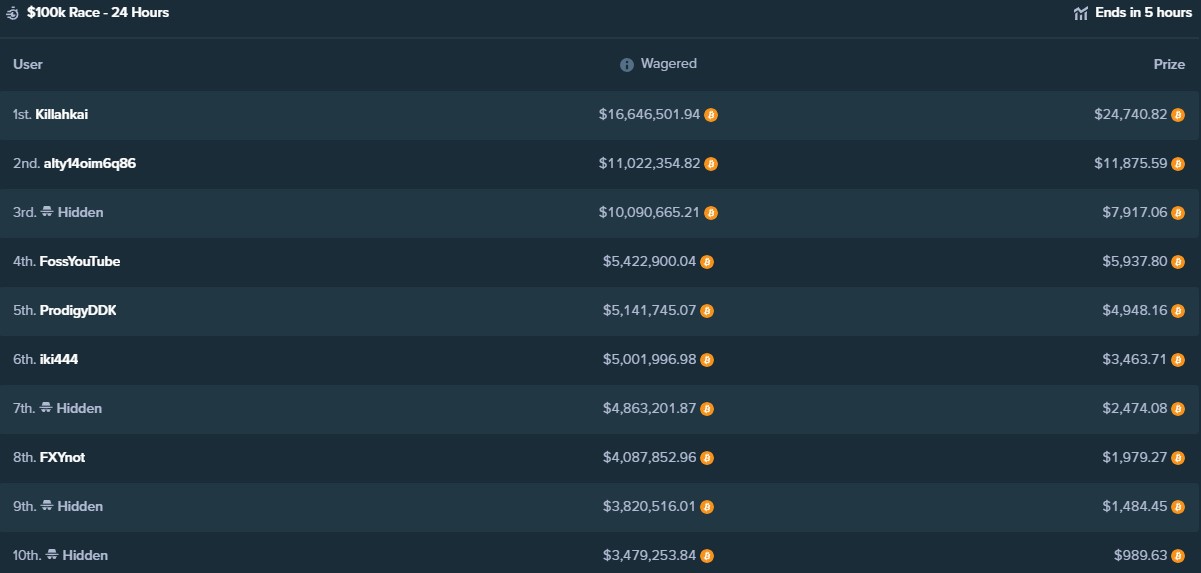 BC.Game ~$8000 Wager Contest
Another great daily wager race is run by popular BC.Game crypto casino. The prize pool varies day by day depending on total wagered amount by players on a given day.
Join the contest by wagering a large bets in many in-house games (1% house edge) or choose from the wide 3rd party games offer – slots, blackjack, baccarat etc.
Chips.gg $1000 Daily Race
Now we will explore rather small races on other crypto casinos. Let's start with the Chips' daily race for $1,000. Although it's not massive race, there might be some incentives to play regularly on this platform.
One one them would be in-house games with low house edge (1%) and simple graphics. Another reason to coming back to Chips.gg is they share casino profits with CHIP stakers. Earn these tokens by wagering on the platform and get paid dividends on daily basis.
More CHIP tokens you mine by playing, the bigger payouts you can expect. On top of that active players can claim rakeback from each bet.
If $1000 is just too small of a prize pool for you, definitely check Chips.gg anyway as they sometimes run 50K monthly race or other competitions.
BetFury $1000 Daily Battle
BetFury is a another great crypto casino with competitions for the most active players.
Their staple is a $1,000 profit race you can join by playing any of their in-house games (~2% house edge) – Dice, plinko, towers, hilo….
To succeed in this one, you have to increase the sum of your profits (win-wager).
Keep in mind, that you also mine native BFG tokens with each of your bets (similar to Chips.gg wager mining). You will be automatically eligible for daily dividends after placing bets.
As the BetFury belongs among the biggest crypto casinos we can expect they will increase the prize pool of the daily race in the future. Visit BetFury promotions page to explore their other battles as sometimes they run special sportsbetting or slots races.
Wolf.bet $1000 Daily Race
Wolf.Bet is relatively new crypto casino. They've managed to bring a lot of new slots providers and launch own sportsbook in recent months.
To attract new players they run $1,000 daily wager races with boosted $5k Wolf race on Wednesdays.
Bitstarz is one the crypto casinos with longer history as they operate for several year by now. If you decide to join this highly rewarding casino, take advantage of the generous deposit bonus.
Then you can participate in two races that run on weekly basis.
As you can see crypto casinos are trying hard to bring a great experience to their players. In addition to race prizes you will usually receive even more rewards like the rakeback and the cashback.