Crypto casino Chips.gg adds support for WSwap (WEX) cryptocurrency of the project running on Binance Smart Chain, it's the utility token of Wault.Finance and from now on your can use it for casino plays on Chips.gg.
To celebrate this addition, Chips.gg has prepared a week-long wager race with $5,000 worth of crypto to be distributed among 50 players. Play with WEX to be rewarded, too.
How to Participate In $5,000 WEX Wager Race
Login to your Chips.gg account or create a new one
Play any available casino game on Chips.gg with WSwap (WEX) 
Every wager counts to the leadearboard – More you wage, the higher your rank is!
Claim to the top of the leaderboard and receive the prize
Top50 players with the highest total wager win prizes ($10 – $1750)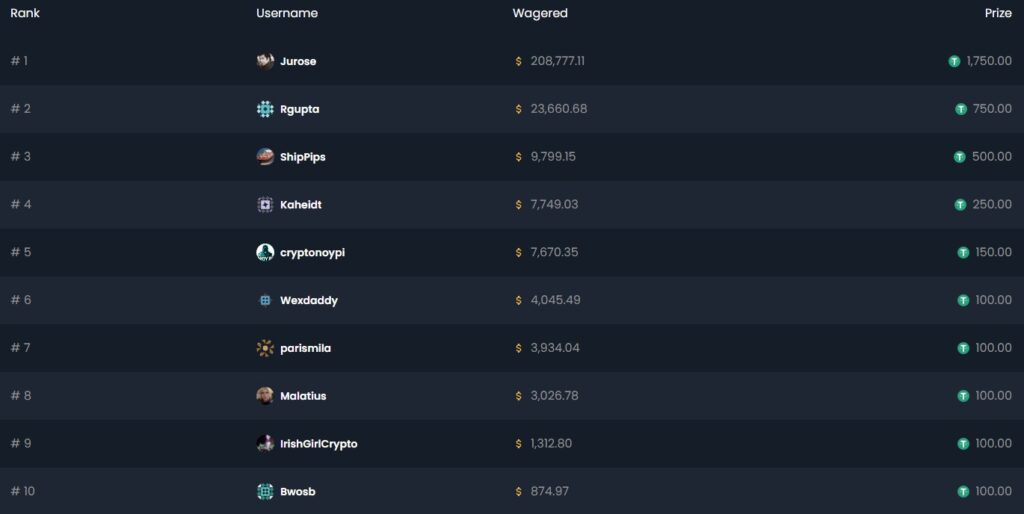 With each placed bet, you mine native token CHIP and start receiving daily dividends (casino's profit). More about the feature in Chips.gg review.
Create your Chips.gg player account, if you don't have one yet.
Chips.gg is crypto casino, it provides in-house dice and games by other providers, too. The supported cryptocurrencies are Bitcoin (BTC), Ethereum (ETH), TRON (TRX), Ripple(XRP), Binance Coin (BNB), Binance Dollar (BUSD), ApeSwap (BANANA), Pancake (CAKE), USDC and USDT.
Follow us on Twitter to get notifications about latest crypto sportsbetting and casinos promotions. Or bookmark our Doublethebitcoin news page.