BetFury is a unique gambling platform – it provides the sportsbook and casino with wide selection of slots and own in-house games. It also shares casino profits with engaging players. For staked BFG tokens on the platform you receive daily dividends.
Now they've added another feature that adds up to active players rewards – the rakeback.
Sign in to your BetFury account or create a new one using GMail, Metamask or other supported wallet.
Only accounts with Rank 3+ (Min total wager $10k) are eligible for rakeback rewards
Play in-house games and slots to earn Rakeback
Rakeback amount depends on wager size and your BetFury account rank
The rakeback can be claimed at any time
Rakeback Rewards = Wager x 0.01 x Coefficient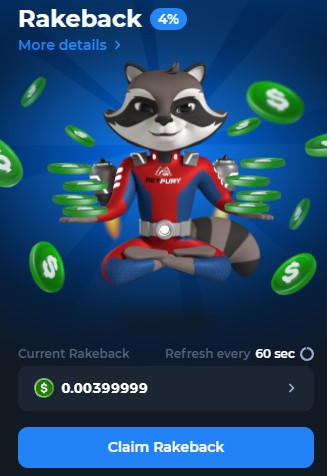 Players with the bigger lifetime wagering – with higher Betfury account rank – will receive higher percentage rakeback rewards
3-4 Rank –  3%,
5-7 Rank –  4%,
8-10 Rank – 5%,
11-12 Rank – 6%,
13-16 Rank – 8%,
17-19 Rank – 9%,
20 Rank – 10%
At the moment rakeback cannot be earned with sports betting.
Betfury is crypto casino and sportsbook. Offers a great variety of casino games and its sportsbook covers most of the important events.
Betfury supports many cryptocurrencies including Ethereum, Tron, USDT, Bitcoin, BTT, BNB, Dogecoin, Ripple (XRP), Solana (SOL), Polygon (MATIC), Shiba Inu Coin (SHIB) and many more.
Play on Betfury Casino to mine their native token BFG, this way you will receive dividends – part of the casino's profit on daily basis. Read the 
Betfury review
 to learn about all features.