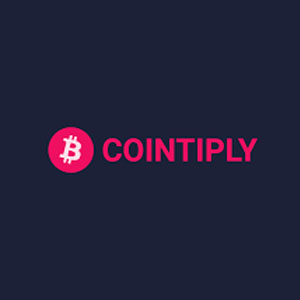 Cointiply Features
Free Bitcoin Faucet every 12 hours

Surveys & Offers – Complete surveys to receive Coins

Referral Earnings – Get 25% commissions of friends' profit

Multiplier – Play the multiplier game boost your balance
View Ads – Click on the ads to receive free Coins
Watch Videos – Get Coins by watching commercial videos
Play Games
5% Interest – Your balance will grow by 5% Annual
Cointiply Payment Details
Minimum Payout – 100,000 Coins to Bitcoin wallet
Enter your first name, e-mail address and choose password and go to your inbox to confirm your e-mail address. Now you can sign-in and start earning free bitcoins.
Earning Bitcoins on Cointiply
Cointiply provide many method how to earn free bitcoin, some of them are high rewarding and some are not, but those don't require much work.
On Cointiply your rewards are in Coins unit, not sathoshis or other bitcoin unit. At this moment 1 Coin is equal to ~1.2 satoshi.
Let's make an overview of all available options:
​
Faucet – Every 12 hours you've got a chance to get free bitcoins, prize up to 110 Coins (~120 satoshi). Then there still is a very low chance hitting a jackpot and well over 100,000 Coins. That's the easiest method, but with only two roll per day, your rewards are destined to be low

Completing surveys and offers – This is a another way how to add satoshis to your balance, surveys can be exhausting to complete, but rewards are quite high

View PTC Ads – You click on an ad and have to stay on the page for several second to receive a reward. There is a few ads per day

Multiplier – Build-in game to multiply your Coins (not profitable long-term)

Play Games – Playing various games to get Coins is also an option

Watch Videos – Earn Coins by watching videos on Hideout.tv, Videofox or others

Refer a friend – Refer this bitcoin faucet to your friends or to people via social networks and get passive income – 25% commissions of referral faucet profits and 10% of referral earnings from Offer Wall

Earn 5% Annual Interest – If you hold more than 30,000 Coins in your Cointiply account, you'll be rewarded with 5% interest yearly
Bitcoin Faucet
Faucet is the main tool to generate free bitcoins for yourself. You enter recaptcha code and then you will roll the faucet to get free Coins. Unfortunately, Cointiply allows only a free roll per 12 hours, so faucet is not a good tool to generate linear income. I'd still recommend to roll as much as you can, as if you hit the jackpot, the reward will be big. To be more precise, right now, hitting the jackpot roll numbered 99999 (100000:1 chance) has value of 240,000 Coins (around $24).
​How to claim free bitcoins on Cointiply.com?​
STEP 1 – Log-in to your account
STEP 2 – Click Faucet and enter reCaptcha/ code
STEP 3 – Receive the prize
STEP 4 – Come back after 12 hours to roll again 
There is randomness in how much you will receive on every claim. Every rolled number has attached Coins value. As value increases, chances for such roll decrease as the amount of high-paying rolls is low. 
Prize will be also multiplied by your Cointiplier (more active you are on the website, Cointiplier value goes up, don't ask for exact formula). The starting value for every user is 1.5x multiplicator.
​
See the prizes down below.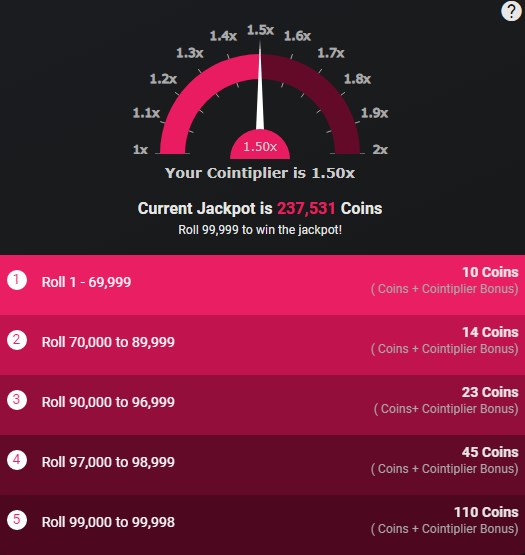 Surveys & Offers
High rewarding is section of Offers, usually these are surveys you have to complete (5-15mins worth of time) to obtain Coins.
If you've got a plenty of spare time and you are serious about free bitcoins, this option may be suitable for you as rewards will be big. 
Not all offers are available in your country, so don't be surprised if this reason will pop up and stop you from completing particular offers.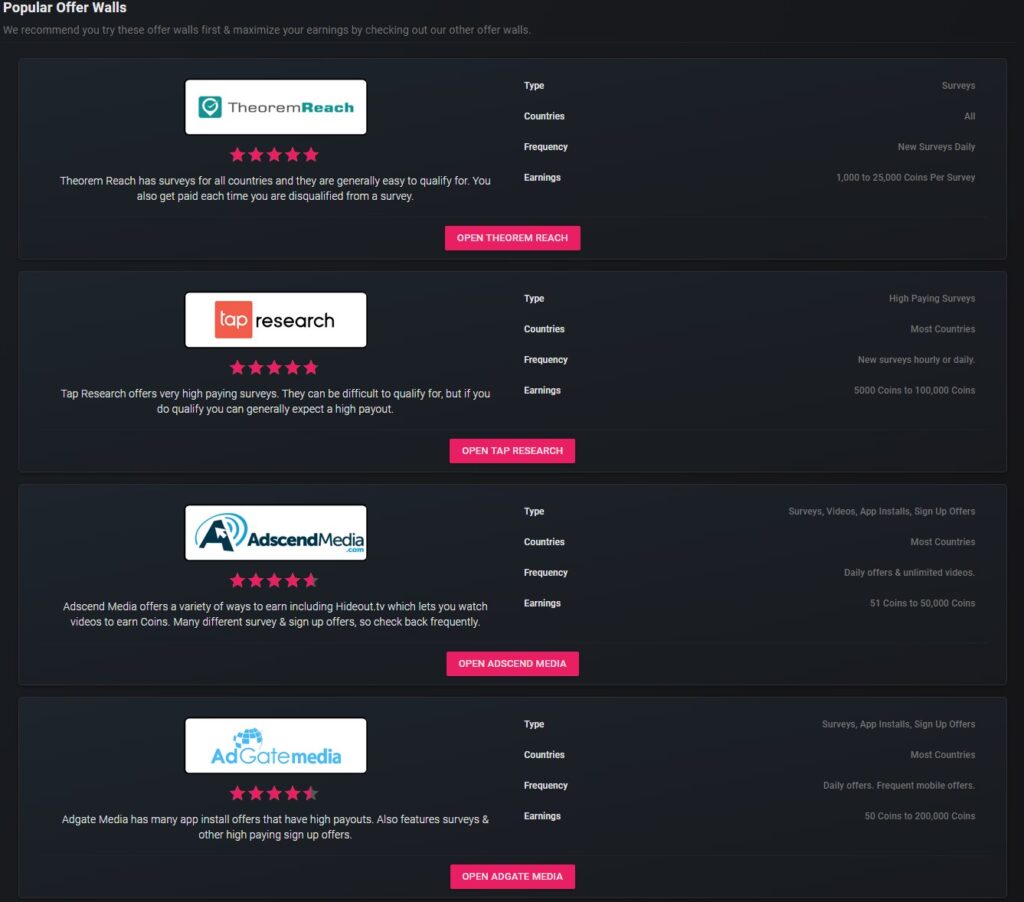 PTC Ads
Another way how to earn Coins is to surf ads, you just select one of the offered ads and stay on given page for required time. The last step is to click on image described by the text. Then you're qualified for receiving your Coins. 
Usually there is a few of those adds for every day.
Rewards are ranging between 5-10 Coins per ad viewed.
​
If you would like to enter your own PTC ad, you don't need to create another advertiser account, just hover over PTC Ads and click Create PTC Ad.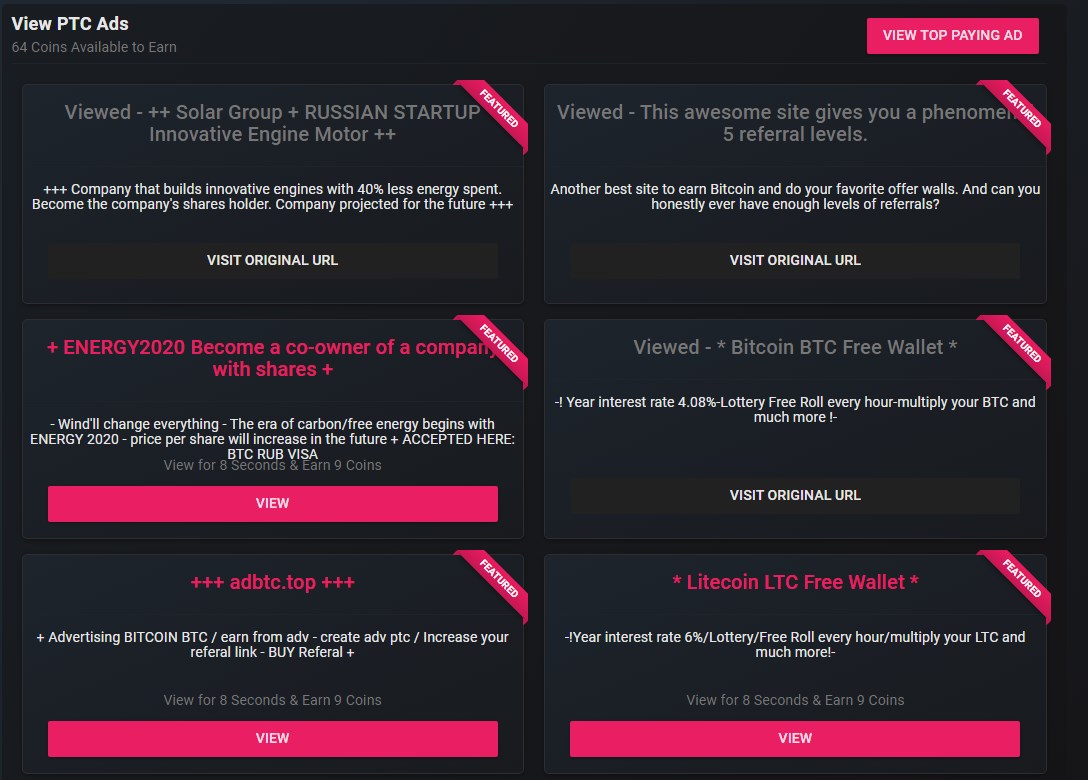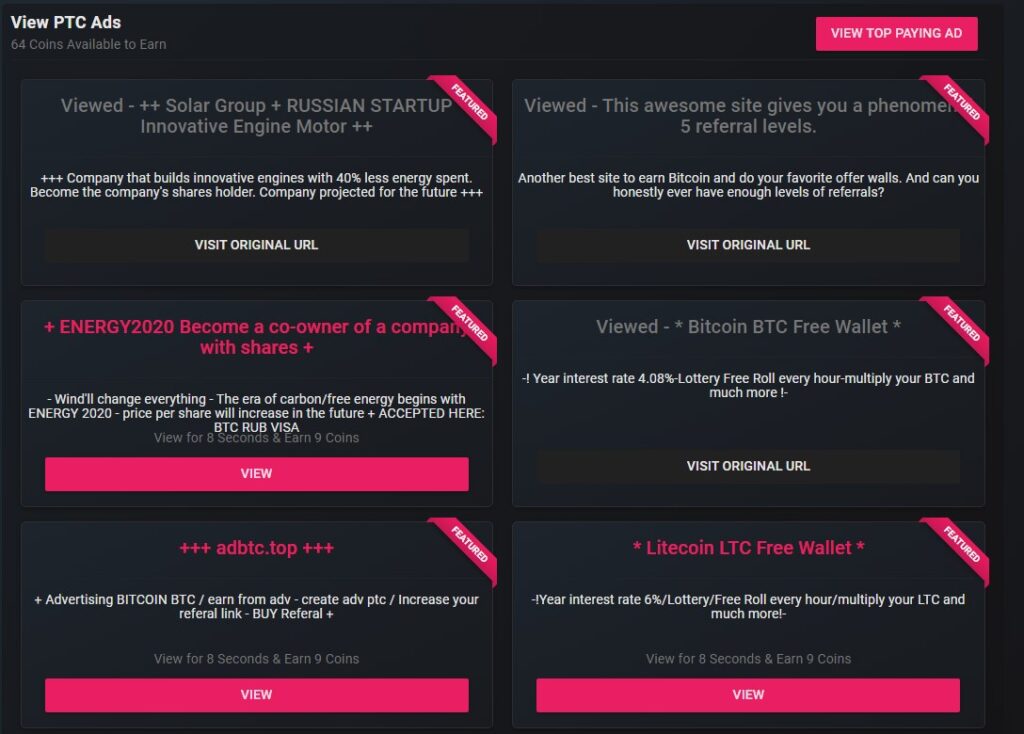 Multiplier Game
This build-in game is more of an attempt to implement more fun into the site rather than valid tool to earn bitcoins. Don't expect you will win in this game in the long run as Cointiply has a slight edge here.
The game itself is simple, you just click randomly on a circle and either your bet will be multiplied or you bust and have to start over. You can win up to 63x of your initial bet amount.
Refer a friend
If you would like to use bitcoin faucet's referral programs to build a passive income, Cointiply has one also. It definitely don't belong between the most generous, but it's still very good and transparent program
​
Free Bitcoins Rolls – Get 25% of your referrals profits from faucet

Get 10% of profits from your referrals' completing surveys and other offers
​
If you're interested in this option, hover over Earn Coins menu and click Refer Users. There you can copy your referral link and share it with targeted friends or visitors of your website/social network.
For better referral recruitment results, Cointiply supplies everybody with several banners for invitation other users.
Annual Interest
You will be eligible for 5% interest each year, if you will follow one single rule and that is to keep more than 35,000 Coins in your Cointiply account. You can either save up that amount or deposit bitcoins to have more than that in balance.
It's not significant interest, but still better than nothing. Mainly it's decent benefit for those who are in faucet business for the long run (possible for several years)
Withdrawals
There are three possible destinations you're able to withdrawal to. The one is standard bitcoin address (your wallet, exchange account, etc.), another is FaucetHub (suitable for people engaged in other faucets supporting this wallet) of DOGE wallet. 
​
Each method has its own minimum cash-out Coins amount:
Bitcoin Address – min. 100,000 Coins
FauceHub Account – min. 35,000 Coins
DOGE Wallet – min. 50,000 Coins
​
​
Very big benefit is that you don't pay any transaction fees, which will be extremely helpful for users with smaller balances and avoiding every possible fee is crucial.
Unfortunately, Cointiply sends out payouts only on Sunday (bitcoin address) or within 24-72 hours (DOGE and FaucetHub), so you don't get charged for fees, but there is no option for instant withdrawal.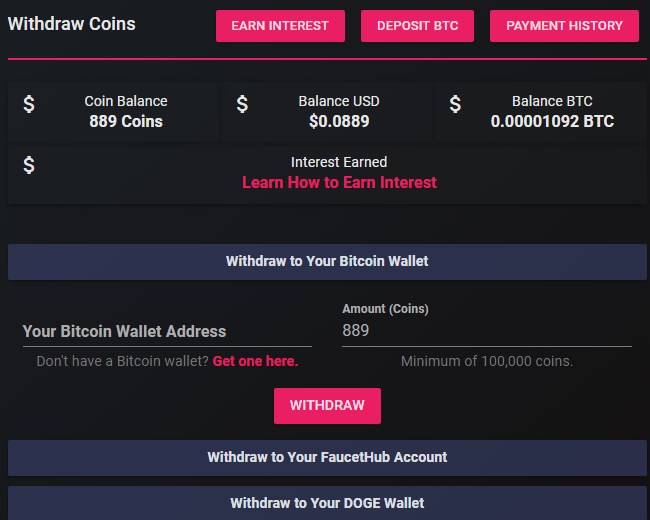 If Cointiply hasn't impressed you and you would like to try another faucet, see our list of crypto faucets.
Also follow us at Twitter to get every news about crypto faucets, casinos and sportsbooks.