Crypto casino Pasino has started profit sharing with their loyal users. All you have to do is to stake Feyorra tokens (FEY) on their decentralized platform. And if the casino will grow in popularity and average daily total wagering increases in the future, this is a great opportunity for a passive income.
1. Mine or Buy FEY Tokens
To start receiving the Pasino profit share, you have to acquire Feyorra tokens – this can be done either in Pasino games or buy FEY on exchanges

As Feyorra is an ERC-20 token running on Ethereum network, you have to be aware of high network fees you will have to pay at some point.
It's probably cheaper to buy FEY on CoinTiger, but you still have to pay high withdrawal fee once you need to move Feyorra into your Metamask wallet.
If you already have funds on Metamask, you can swap it to FEY for a high swap fee but the process is quick and convenient.
Once your tokens sit in the Metamask wallet, connect it to Feyorra platform and stake desired amount. You have to pay network fee for the stake request, too.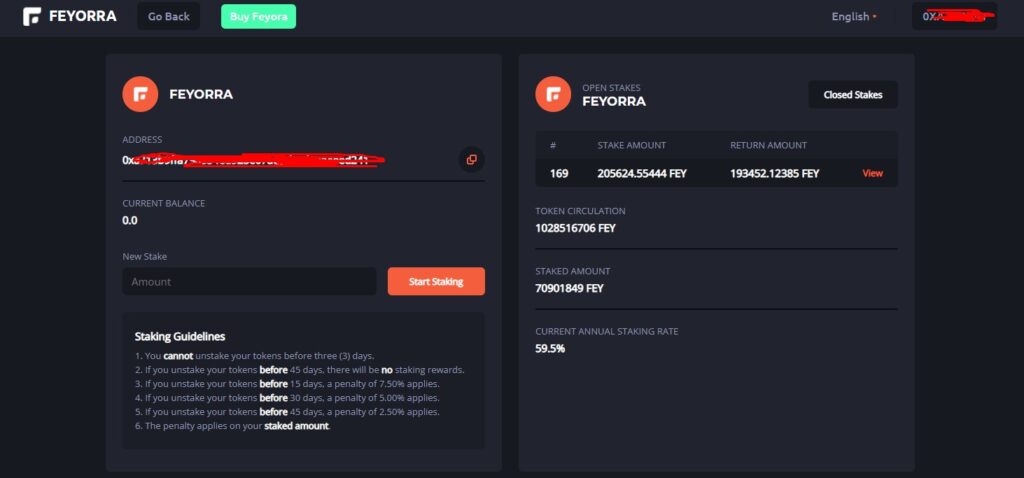 3. Receive Pasino Dividends
Now you stake FEY tokens on Feyorra platform with yield around 60% annually. On top of that you may connect Metamask to Pasino to verify your stake and receive fair share of casino profits automatically. Earnings are credited to your Pasino player balance daily and can be withdrawn at any time.
As you can see, getting paid casino profits on Pasino is a little bit more complicated and far more expensive than at other crypto casinos paying dividends.
If you want to start receiving profit share, it makes sense to make it with large FEY amounts. That because of expensive tokens transfer and stake request – expect somewhere $100-$200 per complete set up (depends on current ETH network congestion). 
Potential profit depends on future Pasino casino revenue, if it's going to be really popular gambling platform we can expect dividends to grow rapidly.
At the moment with 0.6% of total FEY share, we're getting paid ~$1.5 in total daily across all crypto. That's very low value and it doesn't make a big sense to participate if Pasino won't grow significantly.
Pasino is a fresh crypto casino launched by the same company as micro wallet FaucetPay. They offer slots, live casino and many originals including Crash, Dice, Plinko, Video Poker, Blackjack and others.
Players are eligible for the instant rakeback (refund), and also receive a bonus cash for every VIP levels reached. 
Pasino supports many popular crypto such as Bitcoin, Ethereum, Binance Coin, Litecoin, Tron, Solana and others.
Read Pasino review for more details about the casino, profit sharing and other features.