Crypto Casinos Paying Dividends 2023
The crypto space offers the most innovative technologies in the gambling sector.
Join casinos paying out dividends to loyal players and create an additional passive income.
What you'll learn about Bitcoin Casinos Paying out Dividends💡
The best casinos paying dividends are BetFury, Chips.gg, or Starbets. There are more high-quality gambling sites providing this extra feature to users.
In this guide, we'll focus on the info to learn about profit-sharing mechanisms and how to maximize dividend payouts.
Top Crypto Casinos Paying Dividends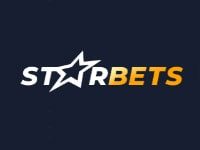 Accepts BTC, ETH, TRX, USDT, BNB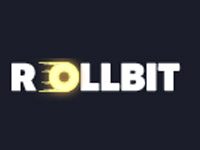 Accepts BTC, ETH, LTC, SOL
Accepts Many Cryptocurrencies
Best Crypto Casinos with Dividends
Numerous crypto casinos claim they share profits with their active players through dividends. We'll focus on the most popular and reputable gambling sites.
Focus on these criteria if you choose a Bitcoin casino you want to play on:
Let's take a look at our best picks for crypto casinos with dividends. We've chosen sites with rich selections of games and rewarding dividends systems.
BetFury is a well-known crypto casino with a dividends system. Players earn native BFG tokens for every bet (>$0.01) made on slots and in-house games (Dice, Plinko, HiLo, Crash, and more). Even though BetFury runs a sportsbook, bettors won't earn BetFury tokens for placing sports bets. That means only casino players collect tokens and receive dividends.
The dividends are paid out daily to BFG holders (on-site) – you can choose to receive the payout in BFG or five cryptocurrencies (BTC, ETH, BNB, TRX, USDT).
On top of the dividends rewards, you're eligible for Cashback, Rakeback, FuryWheel (free crypto), and FuryCharge (recharge bonus). All these additional bonuses, combined with a high RTP (99%), make BetFury a clever choice for gamblers.
In the beginning, BFG tokens weren't traded on open markets, so the only way how to start earning dividends was to make bets in the casino. Nowadays, BetFury tokens are traded on centralized exchanges and decentralized apps (Biswap for example), too.
Starbets is a relatively new crypto casino, but it's worth looking at it while it's new. This carries the benefits of easier earning STAR tokens.
The site tries to adopt similar concepts to what BetFury successfully does. On Starbets, you can find daily dividends, a VIP program with Cashback rewards, and in-house games (Keno, Mines, Limbo, Dice).
Mine STAR tokens till the process remains cheap. With every batch of 100M tokens, the wager mining price increases.
How the Profit-Sharing Works
The process of getting paid by a casino with dividends is usually the same. You hold the native tokens on-site and that gives you the authority to receive dividends payouts. The size of a daily payout is calculated from the total prize pool. The more native tokens you possess, the bigger your payout will be. This type of fair distribution is used by BetFury, Startbets, or Chips.gg.
But there are also different mechanisms for how Bitcoin casinos reward their players via the profit-sharing feature.
Get Casino Tokens to Receive Dividends
If you would like to start earning with crypto casinos, follow these simple steps:
We recommend joining the casinos mentioned in the list above. These provide an extensive range of exciting games and fair distribution of casino profits.
Once you've got an account on the dividends crypto casinos, obtain the tokens to qualify you for the dividend payouts. Usually, there are two ways how you can do it:
Wager Mining – Play and bet at the casino to earn native tokens and start earning dividends
Buy tokens at exchanges – centralized sites or decentralized app
Different coins can be bought at various sites – for example, BFG tokens can be bought at Biswap and Rollbit's RLB on numerous Solana dapps (Rollbit Coin at Coingecko).
The potential earnings via crypto casino dividends could surprise you—whales get hundreds of dollars daily. But you'd have to own a high share of all circulating tokens to achieve such payouts.
Let's take a look at the math behind the dividends payouts. We'll look into BetFury's dividends pools, and how many BFG tokens you have to own to secure a decent payout.
BetFury Dividends Distribution
Staking Pool: $1,500,000
BFG Staked: 3,300,000,000
3% of the staking pool (total daily payout) = $45,000
Player A holds 1,000,000 BFG Tokens (worth ~17k)
Player A receives ~$13 daily
calculation: 1,000,000 / 3,300,000,000 * $45,000 = $13.3
This is a quick example of how much you can earn per day with 1 million of BetFury tokens.
I compiled the data into the table below to present how much you will earn if you invest $1,000. The invested funds = lost in the long run,
e.g. you wager $100,000 and lose $1,000 on a 1% house edge game.
| Casino - Token | Mining prize | Earned for $1,000 | Expected monthly payout |
| --- | --- | --- | --- |
| BetFury - BFG | $0.017 on Exchange | 58,800 BFG | $24 |
| Chips.gg | Wager $174 for a token | 574 CHIP | $2.7 (quarterly payout) |
| Starbets - STAR | Wager $0.61 on Dice to earn a token | 82,000 STAR | $26 |
Chips.gg has changed its dividend system from a daily to quarterly distribution. Playing on that platform gives players the lowest APR. On the other side, Starbets and BetFury give you decent returns. We used the BFG exchange price for the calculation. If you play BetFury casino games to collect the tokens, the returns would be significantly lower.
It's also important to note that mining difficulty increases over time, so users who played in the early stages of the casino operations earned casino tokens faster. Monitor the crypto casino scene and seek new ambitious projects. Participate in these early and acquire their tokens for better prices.
Rollbit and Profit-Sharing via NFTs
Rollbit is one of the most innovative crypto casinos out there. Besides providing original games, sports betting, and cryptocurrency futures trading, their share a part of profits with the loyal community. And their profit-sharing is unique and fairly different from the competition. To receive "dividends" from Rollbit you have to own their NFTs. 
Rollbots – Holders can get casino profits via the lottery and get a boost on their rewards
Sportsbots (Sports Rollbots) – Rollbit share their sportsbook profits with NFT holders via monthly payments. Additional bonuses are monthly free bets and combo boosts.
The first collection called Rollbots was offered to early adopters when the site wasn't widely popular. Each Rollbot (robot-like visuals) has 5 stats that benefit its holder in various ways – Rollback, Revshare, Market Shares, Lottery Stakes, and Lottery Multiplier.
Rollback – Get up to 10% of the rake paid in Rollbit casinos back. The size and percentage of these benefits are based on your Rollbot's traits
Revshare and Market stakes – Get a share of fees paid at the NFT marketplace from every
Lottery stake – Get a share of RLB tokens that people stake in anticipation of winning the lottery prizes
Lottery RLB multiplier – Increase your RLB stake in the upcoming lottery and improve your chances of winning big
As you can see, Rollbots bring plentiful benefits to their owners. It's not a surprise these NFTs are expensive in the marketplace. The ones with the least advantages are for salt for under $1,000. If you want to acquire the best Rollbots, prepare multiple thousands of dollars.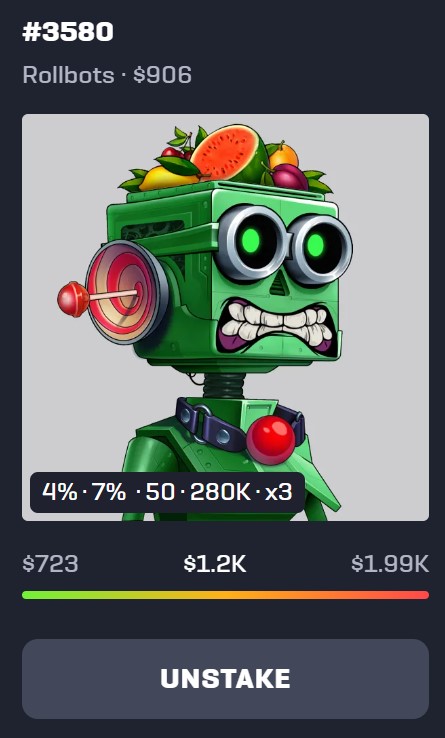 Rollbit uses the lottery system to reward loyal players. To enter the lottery, stake RLB tokens that you purchase on the open markets or from holding a Rollbot NFT. Read these points to grasp the lottery mechanism.
The profit-sharing pool at Rollbit's casino increases in proportion to the wagers placed by players.

To earn lottery tickets, players can use Rollbit Coin (RLB) as a wagering currency, subject to a 0.2% fee. Of this fee, 0.1% is returned to Rollbot holders, while the other 0.1% is burned.

The amount of RLB that a player has wagered can be multiplied, depending on certain account conditions.

Players may also form teams, which increases their chances of winning but also results in a 110% bonus balance equivalent to the prize when they win.

Expect one lottery round per 100 BTC blocks. The system will randomly choose the winners. They will be credited with their prizes, and the RLB tokens distributed.

One lucky player may win the Jackpot in each draw. If the Jackpot is not won, a rollover happens!
As Rollbit casino introduced the sportsbook, the second NFT collection was released, too. Sportsbots are linked to Rollbit profits coming from their sports betting platform.
Obtain a Sports Rollbot to have access to valuable perks in the sportsbook. If you're not a sports betting fan, you can still heavily benefit from having an army of these NFTs. They provide the following bonuses:
Profit-Share – What sport does your Sportsbot focus on? Collect a share from people betting on that sport.
Free bet – Bet on the Rollbot-oriented sport with a free bet. No risk to your funds—only a chance to make a profit!
Combo Boost – Activate this feature on multi-bet tickets to receive an increase in total odds.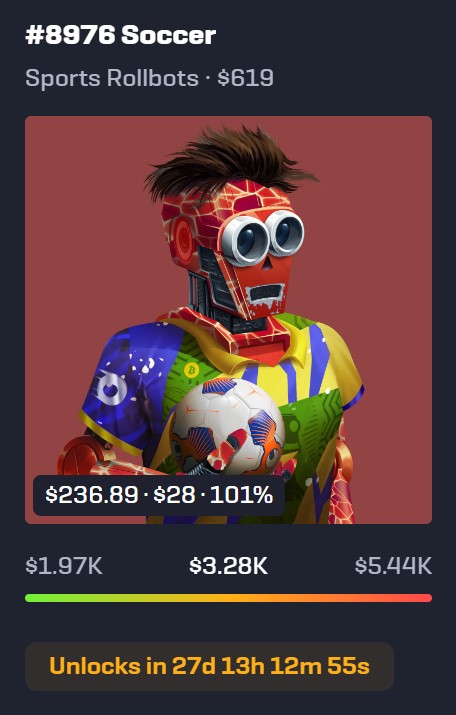 Claim your Sports Rollbots rewards once a month. It's a special moment in the calendar for Rollbit players.
What Games Can I Play to Earn Dividends
If you wonder what games you have to play to get casino dividends, learn the rules of individual sites.
We've tested crypto casinos with dividends and constructed a table with qualifying games for wager mining:
In-house games (sometimes referred to as Originals) are a selection of popular games in the crypto community. Enjoy the top graphics and superb playability with games like:
Besides Originals, wager mining is very often available for slots players. Quality crypto casinos offer a rich range of slot machines by established providers. Play these, have a chance for a large multiplier, and create bigger dividend payouts.
Crypto Sportsbooks With Dividends
That would be for earning dividends as a casino play, but what about sports bettors? Can they receive dividends, too? Some Bitcoin gambling sites also allow wager mining on sports bets, although it's not common. See what crypto casinos with dividends can offer to sports betting fans:
TrustDice – Covers most of the important sporting events, high betting odds, and wager mining of TXT tokens to receive dividends
BetFury – Even though BetFury provides sports betting, players won't earn BFG with the activity. Wager mining of BetFury tokens is reserved only for casino players (in-house and slots). But that doesn't limit you from participating in BetFury sports betting.
Rollbit – Offers the sportsbook with high betting odds and top coverage. Own Rolbots v1 or v2 to receive extra rewards. Unfortunately, you can no longer receive additional RLB coins via betting on the platform.
Do you wonder if you should prioritize crypto casinos with dividends over sites without profit-sharing? I would say yes, but it won't be deciding factor.
You can think about the profit-sharing and another rewarding element of some Bitcoin gambling sites — as an additional bonus stream. But the magnitude of these rewards isn't that significant to prefer casinos with dividends.
If you like to receive payouts from your passive income and enjoy top crypto games — sure, join BetFury. If you're into NFTs and gambling, check Rollbit and pick their Rollbots to experience extra features. Subscribe to the DTB newsletter to know about the best opportunities.
All in all, try the Bitcoin casinos with dividends to see if you prefer this unique feature over other bonuses to decide which site you'll be loyal to. It's also clever to keep your eyes on new crypto dividends casinos and mine their tokens for cheap till the platform is booming.
Crypto Casinos With Dividends FAQ
What are the best crypto casino paying dividends
Multiple high-quality sites share profits with their players, these are the best:
Best Dividends Payouts – BetFury – Great games selection, accepts 30+ coins, features a rewarding bonus program and daily dividends payouts
Uniqueness – Rollbit – Wonderful casino, sportsbook, and unique NFT gambling section. Get rewards through Rollbit's NFTs Rollbots 
Promising project – Starbets – Promising crypto casino with growing games selection and daily dividends payouts
How does profit-sharing works?
We've examined various mechanisms used for profit sharing in the dedicated section.
Usually, sites distribute native tokens to active players. These token holders are qualified for dividend payouts. There are also other mechanisms to give out dividend rewards.
In theory, you're not very limited to how much you can earn. The simple rule is "The more you put in → the bigger the rewards".
Top whales at crypto casinos can grow their payouts to hundreds of dollars daily. To achieve such dividends, you have to put in a massive wagering volume or buy casino tokens first.
Is it safe to play at dividend casinos?
The risks of playing at dividends casinos are the same as at the standard Bitcoin casinos. Investing in casino tokens, it's similar to investing in other crypto projects.
It's beneficial to be at the beginning of the new crypto casino with dividends. You can scoop casino tokens for lower prices and profit from the growing dividends payouts.
Author of the Guide for Crypto Casinos Paying Dividends