BetFury Review – Crypto Casino
BetFury is crypto casino estabilished in 2019. It's growing fast day by day and there are several reasons why is BetFury very popular in bitcoin gambling community. Offering own original in-house games as well as known providers' slots and games. Mine BFG tokens by playing on Betfury and receive fair share of casino profits (dividends). Betfury also enables you to earn free bitcoins via Boxes feature.
Bonuses:
No FDB bonuses
Bonuses via completing Daily tasks
Cashback (up to 25%)
Plenty of promotions
Earn dividends by mining BFG tokens 
Cryptocurrencies supported:
Bitcoin (BTC), Tron (TRON), Ethereum (ETH) Bittorent (BTT), Tether (USDT), Sun Token (SUN)
FIAT supported:
No
License:
Yes (Curacao license)
Games Offered
BetFury is full of various games. They offer several in-house games with simple rules. If you're looking for something more spicy, head to Slots or Live casino categories.
In-house Games
Jump into well known games such as Dice, Keno, HiLo, Plinko or other. Unique design created only for BetFury casino. These games are great for quick fun or ideal for mining BFG tokens (more on that later in the review).
Slots
There is wide offering for slot lovers. Enjoy games from world-famous providers such as
Spinmatic
Fugaso
Playson
Habanero 
And others
Table Games and Live Casino
If that's still not enough for you. Open a Blackjack, Roulette or Baccarat table and have fun. These are also available in live casino options.
BetFury is looking for adding more in-house games and more slot providers in the future, too.
BFG Tokens and Dividends Pool
The best thing about the BetFury is their profit-sharing system. Every player on the platform mine BFG tokens with every wager made. These tokens are staked by players to receive dividends – a fair share of casino revenue.
The more you wager in total, the more BFG tokens you will mine and therefore bigger dividends payoff.
The dividends pool constists of total bets made by players in all the currencies. Every 24 hour the dividends shares are paid out – 3% of the pool are distributed every days to the BetFury players. Your share depends on your amound of staked BFG tokens (they are put into the staking automatically after you make any wager).
Under the Staking tab in the menu you can track amount of BFG tokens you've mined and the estimated profit for you.
There are existing two types of BFG tokens at the moment – BFG(TRX) and BFG(BTC). The Tron BFG token was implemented from the start of the BetFury project, and BTC type of BFG token was added to the platform as you could place bets in Bitcoin. At this moment it's more profitable for you to wager with bitcoins rather than with tronchain currencies as dividends are bigger in bitcoin pool.
Also note that the amount of BFGs mined will differ depending on the chosen game. 
On slots you will mine more BFG tokens with given wager amount but you will lose money quicker on average than with in-house games.
At the end it might be very close with either way, but on certain games (ie Dice, Coinflip) you can turnover your funds with higher speed (for this purpose use Fast feature in Dice).
There is no mining feature in table games and live casino.
BFG tokens are not tradable at the moment so the only option how to acquire them is by playing in the casino (you or your referrals).
Rank System and Cashback
Once you create an BetFury account, it will be assigned with the level 1 rank – Novice. Start playing to level up in the ranking scheme and reach the highest Supervip badge (10,000 BTC total wagering) for getting the maximum cashback.
But don't worry, even from the beginning you are elegible for 2% cashback that is paid out twice a week. Visit cashback tab for more info.
Cashback amount = Coins lost * Cashback rate
ie. 500 TRX (lost) * .08 (8% cashback for lvl4 accounts) = 40 TRX back ot player
Better cashback is not the only benefit for the players with higher rank. The another one – daily tasks bonus feature will open for all players with total wagering >0.1BTC.
For exclusive promotions you have to grind harder and get to level 7 – Elite rank.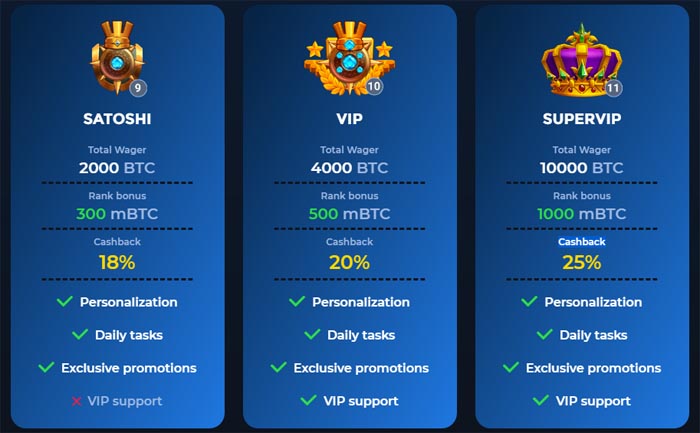 Create an Account, Deposits and Withdrawals
The registration on BetFury is easy. You can choose to sign-up either with
Gmail account or with TronLink wallet.
If you're not familiar with this TRON wallet, I'd recommend going with Gmail, although TronLink should be more secure because it's decentralized.
Once the process is done, you can start playing. Either head to Free box feature to claim free bitcoins or click on Deposit box to fund your account. Choose from available cryptocurrencies (at the moment, these are TRX, BTC, USDT, BTT and SUN).
Send funds to generated address and wait for confirmation.
For people without cryptocurrencies, or in case you want purchase more crypto with FIAT now, there is an tab Buy Crypto (using Changelly).
Withdrawals are also a simple process. The minimum withdrawal for Bitcoin is 0.00005 BTC.
At the moment of writing the review there were FAST (transaction fee 0.00025 BTC) and SLOW (transaction fee 0.000075) option.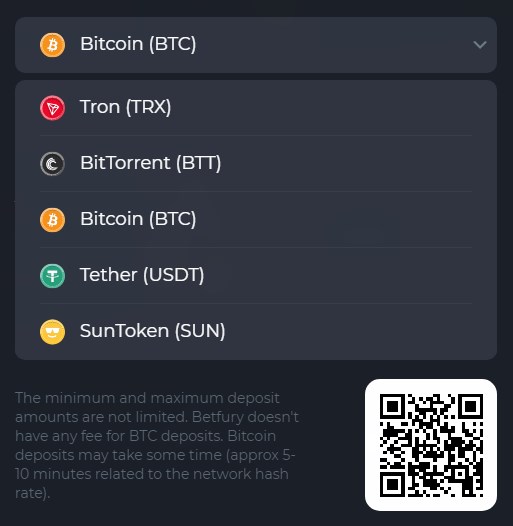 Bonuses and Daily Tasks
As BetFury is not classic casino, but crypto Dapp, you won't be elegible for the first deposit bonus and reload bonuses as you might be use to.
In stead of that there are several ways how you can get extra cash.
Daily tasks – Complete various tasks to receive cash bonuses
Jackpot – Be lucky with in-house games and win big prize
Rank bonus – Level up to receive s onetime cash bonus 
BetFury Boxes
This is a new feature that has been introduced with BetFury 2.0 update. There are two types of Betfury boxes:
Free box – Claim 10 Satoshi every 20 minutes (used to be 25 satoshi/20 mins)
Investment Box – Purchase box with fixed monthly rate and price. Usually offering 5-10% interest rate per month.
These boxes are great for risk-free investment if you're looking to park your bitcoin holding. Be aware of limited amount of boxes per account.
On the other side – Free box – is great for people growing their crypto bankroll or for those who wants to try BetFury casino without depositing their own funds.
Affiliate Program – Refer a Friend
BetFury is looking for new players all the time and you can boost your profits with referring other players to this casino. Not only you will get a very good profit share of your referrals, but you also will be rewarded with 5% of amount of BFG tokens mined by people that have signed up on BetFury through your link.
Simple head to the Referral Menu to get your tracking code and share it with your friends or on your social networks.
Referrals profits can be withdrawn at any moment.

Support
If you run into trouble or need any help with BetFury platform, you can open a chat implemented on the site.
Or head to Twitter or BetFury telegram.
BetFury is an unique platform. It's a great home for people looking for gamble on simple games and slots, for these BetFury has a lot to offer. But it's a valid way to create a passive income if you're looking to invest your cryptocurrencies. Either way, everybody will have fun there and great user interface and frequent promotions will add more to player's overall experience.